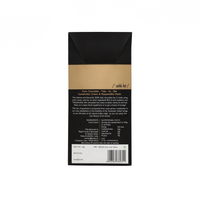 The Pure Cacao Bar !
This intense and flavourful 100% dark chocolate bar is made using only Cacao, and has no other ingredient! Rich in anti-oxidants and Theobromine this chocolate has notes of earth, honey & red fruit. Enjoy as a super-food supplement or to t a boost of energy!
We make chocolate from cacao grown in our own plantations in the foothills of the Anamalais, where we select and ferment the best of the lot before its transformed into pure joy. SOKLET brings to you the finest chocolate from origin India. 
We ship our chocolate packed in special thermal covers & frozen gel packs, so that it reaches you in pristine condition using an express courier. The packaging, resources & energy spent in doing this is extensive and hence we require a minimum purchase of two bars. We contribute a portion of the proceeds from each on-line sale towards an environmental cause to offset the effects of wastes generated due to our shipping and packaging.